An old station completely rehabilitated !
The « Jazz Station » was established in a former station. The building is exceptional from the point of view of its construction and its architecture. Indeed, it was built over the railways, at the level of the Chaussée de Louvain which was the location of the shooting range of the former barracks Dailly. It is one of the rare examples of stations built on a footbridge in Belgium.
The former station is also admirable for its Flemish neo-Renaissance architecture with elements from the Brabant baroque. The entry gate and the windows of the facade with pinion give an aspect of this style. Furthermore, the building has been classified in 1996.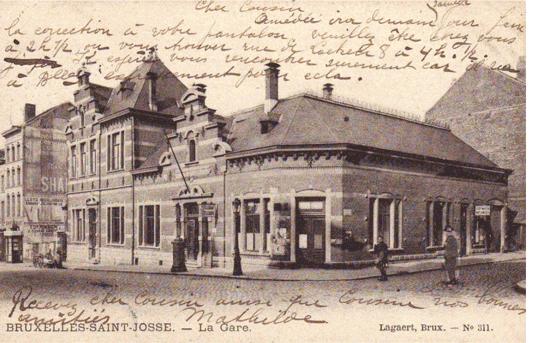 In 1868 work began on the "station of the Chaussée de Louvain". The building was designed according to the plans of the Department of civil engineering of the former Ministry of Agriculture, of the Industry and Public works signed by the engineers H. Joniaux and V. Maillet. The station was inaugurated in 1885. It was situated on the section of the railway line Brussels-Namur-Luxemburg connecting the Nord Station to the one of the Leopold area.
The former station was an important place at the beginning of the century. With industrial change, a tram network replaced the train. From then on, the station did not serve passengers anymore but was essentially for the transport of goods. After World War I it was completely abandoned. The place was then in private hands until the end of the century.
In 2003, the state railway company granted to the municipality of Saint-Josse-ten-Noode an emphyteutic lease to create a cultural centre : "the Jazz Station". This project became a reality thanks to Jean Demannez, mayor of the municipality, and thanks to the subsidies offered by the European Commission and the Region of Bruxelles-Capitale.
The exterior of the building was completely restored. The facades and the roof were given back their original aspect. The main facade, on the Chaussée de Louvain has regained the brilliant red of its bricks. Behind the building, the metallic structure of the gallery also regained its original brightness.