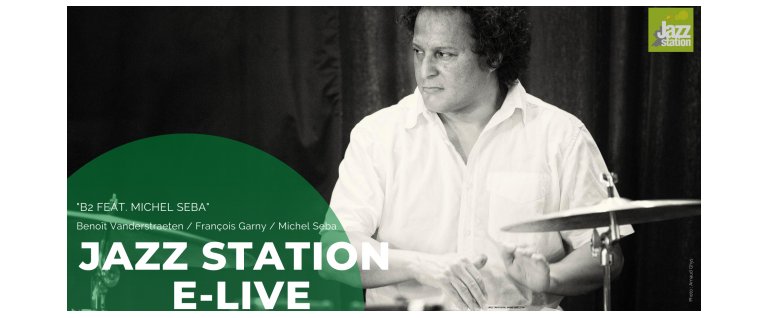 B2 feat. Michel Seba (Benoît Vanderstraeten, François Garny & Michel Seba)
The Jazz Station will celebrate its 15th anniversary at the end of September. A somewhat special anniversary in view of the current situation, so it was keen to offer an overview, a sketch of what represents the heart of its program. This mini-series of concerts thus evokes the DNA of its scene : organic, curious and open-minded music. Based on the principle that there are as many definitions of jazz as there are jazz(wo)men, these thirty artists chosen from among many others have marked the history of its stage. In their own way, they represent a contemporary vision of jazz, which the Jazz Station supports on a daily basis. Confirmed artists or newcomers to follow closely, crossovers or revisited paths, traveling or intimate souls, these women and men from here or elsewhere embrace in our eyes what the Jazz Station is all about.
B2 feat. Michel Seba (Benoît Vanderstraeten, François Garny & Michel Seba)
In the beginning, a crazy idea, just to try ! This extraordinary combination was created in a small atypical room in Rixensart (Din'l'Fosse). François Garny, leader of Slang, an outstanding bass player, was offered a new concept : a concert with three basses. The challenge is equal to the talent of the three musketeers brought together for the occasion : Benoît Vanderstraeten and Sam Gerstmans complete this high level trio. The encounter is perfect, limpid, obvious.
The music is multidirectional, their language alive, with varied sources and accents. There is an energy coming from rock, sounds from India, African and South American rhythms, as well as dub and jungle colours. It is this stylistic diversity that has kept the group alive and we remain amazed at such vitality.
Michel Seba is also part of the group, inimitable on percussion. They leave the field open to trance. The music oscillates, moves, jumps and dances to the rhythms of improvisations, sometimes energetic, sometimes hypnotic, always excellent.
For this recording we meet Francois Garny and Benoit Vanderstraeten for a B2 edition accompanied by their companion Michel Seba !
These tapes have been directed by Les Frères Jambon Production
Sound and mix : Vincent De Bast
Editing : Léo Guillaume and Kostia Pace
These tapes have been made thanks to Sabam for Culture, Jazz Brussels and RTBF auvio's support.