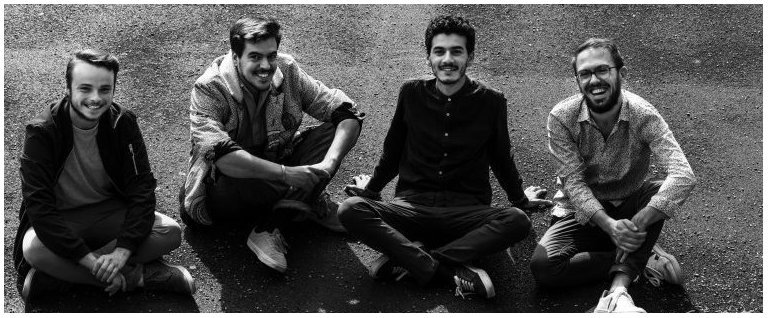 Basile Rahola Quartet « Moments »
Release Party!
Basile Rahola - double bass, compositions / Julien Cuvelier - saxophone / Wajdi Riahi - piano / Pierre Hurty - drums
Double bassist Basile Rahola, recently arrived in Belgium, presents his new quartet with three outstanding musicians from the Belgian jazz scene. Pierre Hurty, an eclectic French drummer, Julien Cuvelier, a young and talented Belgian saxophonist, and Wajdi Riahi, his long-time sidekick, Tunisian pianist particularly creative both on the Belgian and Tunisian scene, with whom he performs as part of his trio (Baz Trio). For this project, Basile has created a whole new repertoire, drawing heavily on feelings experienced in recent years, both from a personal and human point of view, but also from past encounters and travels. This quartet offers a jazz pushing the dynamics to the extreme, bringing an imposing panel of nuances, while keeping as its main purpose the sincerity and spontaneity of the musical discourse. These four musicians who have just recorded their first album on the prestigious label Fresh Sound New Talent, in which two distinguished guests are present (Octavio Hernández and Claudio Jr De Rosa) will present the content of this promising opus to us during this concert.
Concert organized as part of the River Jazz Festival.
€ 15 full price / € 12 members, students, job seekers.
Reservations via our online ticket office.
Following the latest sanitary measures taken by the government, from October 1, we will ask spectators over 16 to present a Covid Safe Ticket (sanitary pass) at the ticket office in order to be able to attend each of our activities.

Saturday 27 November 2021 from 18:00 to 20:00