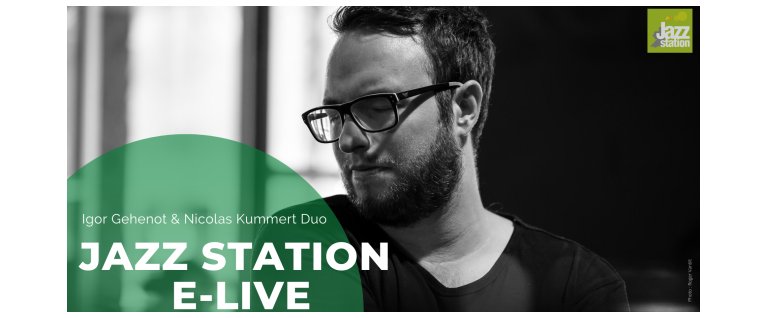 Nicolas Kummert & Igor Gehenot Duo
The Jazz Station will celebrate its 15th anniversary at the end of September. A somewhat special anniversary in view of the current situation, so it was keen to offer an overview, a sketch of what represents the heart of its program. This mini-series of concerts thus evokes the DNA of its scene : organic, curious and open-minded music. Based on the principle that there are as many definitions of jazz as there are jazz(wo)men, these thirty artists chosen from among many others have marked the history of its stage. In their own way, they represent a contemporary vision of jazz, which the Jazz Station supports on a daily basis. Confirmed artists or newcomers to follow closely, crossovers or revisited paths, traveling or intimate souls, these women and men from here or elsewhere embrace in our eyes what the Jazz Station is all about.
Nicolas Kummert & Igor Gehenot Duo
Igor Gehenot discovered the piano at the age of 6 and started playing jazz at the age of 13. In 2009 he entered the Brussels Conservatory where he was taught by Eric Legnini. Today, with three albums to his name, Igor has already won numerous awards (Jazz Artist of the Year by Wallonie-Bruxelles-Musiques, double nomination on the Octaves de la musique in the jazz category). He has performed at many prestigious festivals (Jazz à Vienne, Gent Jazz Festival, EuroJazz Festival (Mexico City), Gaume Jazz Festival, EUJAZZ in Santiago (Chile), London Jazz Festival, Dinant Jazz Nights, ...).
Nicolas Kummert, saxophonist, singer and composer, has always shown an incessant eclecticism. For some years now, he has been multiplying projects (Drifter, Yves Peeters Group, Qu4tre, Pierre van Dormael, La Diversité, etc.). He has been active (as a leader and sideman) in more than 30 recordings and has performed in more than 40 different countries.
The two musicians present a unique improvisation on the stage of the Jazz Station.
These tapes have been directed by Les Frères Jambon Production
Sound and mix : Vincent De Bast
Editing : Léo Guillaume and Kostia Pace
These tapes have been made thanks to Sabam for Culture, Jazz Brussels and RTBF auvio's support.